To celebrate our new Wynwood Showroom we're having 3 days stockpiled with entertainment and art. From March 8-10 Italgres is hosting the TileArt Experience aimed to introduce our brand of high-end tiles into the prestigious artistic center of Miami with our renovated showroom.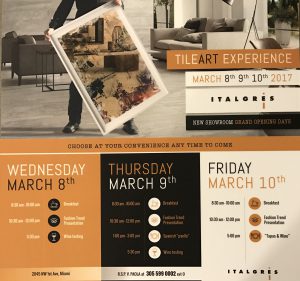 (Click on image to enlarge)
The day-long celebration starts with breakfast at 8:30 a.m., followed by a presentation about the new trends in the tile world at 10:30 a.m.
Stop by for lunch on Thursday 9th for a delicious Paella Valenciana, and luxurious Spanish tiles.
Then cap the night with a wonderful selection of European wines at 5:30 p.m., and a special Tapas treat on Friday the 10th.
2045 NW 1st Ave, Miami, FL 33127
RSVP with Paola at 305 599 0002 ext. 0